As an Amazon Associate I earn from qualifying purchases.
To set up a fly fishing line, start by attaching the backing to the reel, then securing the fly line using a nail knot or loop-to-loop connection. Next, add a leader to the fly line using a loop-to-loop connection, and finally attach a tippet to the leader.
You can easily prepare your fly fishing line for a successful fishing trip by following a few simple steps. Popular is fly fishing, which employs artificial lures to catch fish. Fly fishing requires specialized apparatus and techniques, unlike conventional fishing methods.
The fly fishing line is an essential component of a fly fishing apparatus. For successful and enjoyable fly fishing, the line must be properly set up. We will walk you through the stages of fly fishing line setup. By following these steps, you will be able to easily set up your line and increase your odds of landing that large catch.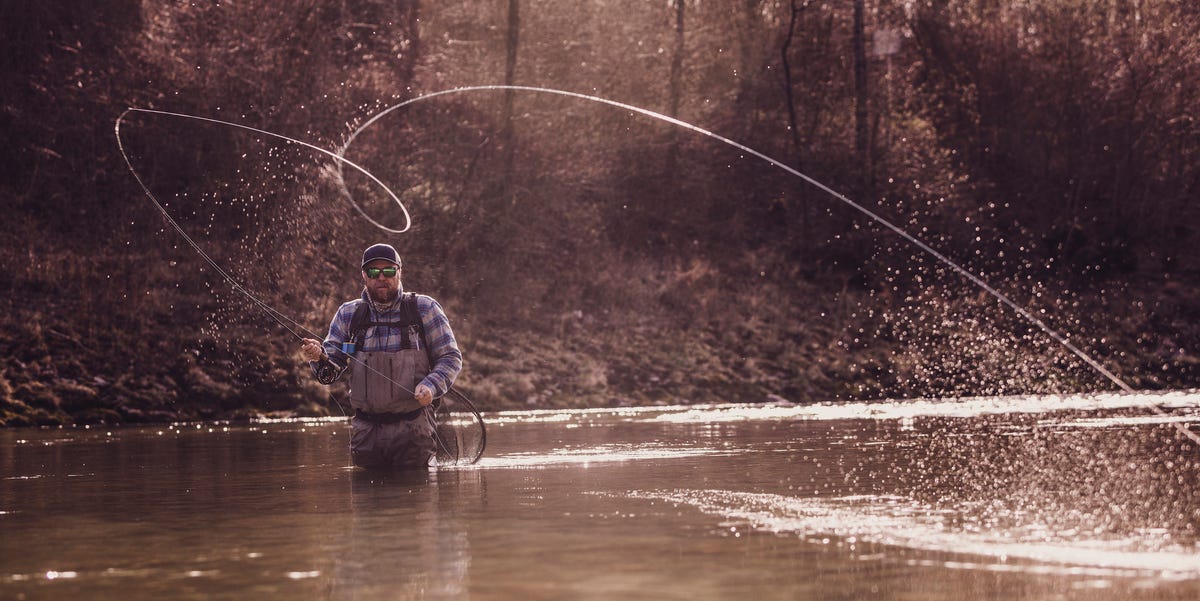 Credit: www.popularmechanics.com
Fly Fishing Line: The Essential Equipment For Casting
A fly fishing line is an essential piece of gear that plays a crucial role in casting. It serves as the connection between the angler and the fly, facilitating accurate and controlled presentations. Understanding the different types of fishing lines and their main components is essential for any fly fishing enthusiast.
In this section, we will explore the various types of fishing lines and delve into the main components that make up a fly fishing line.
Types Of Fishing Lines
Weight-forward (wf) line: This type of fishing line is the most common choice among fly anglers. It has a tapered front end that allows for long casts and effective line control. The bulk of the weight is concentrated in the first 30 feet of the line, making it easier for beginners to cast.
Double taper (dt) line: Dt lines have an even diameter throughout the line, with both ends tapered. This design allows for delicate presentations and is suitable for those who fish at shorter distances. Dt lines are also reversible, enabling anglers to extend their line's lifespan by reversing it when one end becomes worn.
Shooting (st) line: Designed for long-distance casting, shooting lines are thin and very durable. They do not have a taper but feature a slick coating for maximum distance. Shooting lines are commonly used in saltwater and steelhead fishing due to their ability to easily shoot through the guides of a fly rod.
Sink-tip line: When fishing in deeper waters or targeting fish at different depths, a sink-tip line is crucial. These lines have a sinking front section, which allows anglers to get the fly down to the desired depth while keeping the floating portion of the line on the water's surface.
Main Components Of A Fly Fishing Line
Core: The core is the central part of the fishing line and provides the line's strength and flexibility. Modern fly fishing lines usually have a braided or monofilament core.
Coating: The coating is the outer layer of the fly fishing line and determines its buoyancy and the type of line it is, whether floating or sinking. Coatings can vary in thickness and material, such as pvc or polyurethane.
Taper: The taper is the progressive reduction in line thickness from one end to the other. It plays a crucial role in casting and determines the line's ability to turn over and deliver the fly accurately. The taper can be weight-forward, double taper, or designed for specialty applications.
Backing: Backing is a thin and strong line that is attached to the backing arbor of the fly reel. It provides additional line capacity and helps retrieve fish that run deeper into the backing.
Welded or looped ends: Many modern fly fishing lines come with welded or looped ends, making it easier to attach leaders, tippets, or loop-to-loop connections. These ends provide convenience and versatility when rigging the fly line.
Choosing The Right Fly Fishing Line For Casting
Understanding Line Weight And Its Importance
Choosing the right fly fishing line weight is essential for successful casting.
The line weight determines the size of the fly or lure you can cast effectively.
It also affects the distance and accuracy of your casts.
Different species of fish require different line weights, so it's important to match your line to the target species.
Line weight is indicated by a number, typically ranging from 1 to 12, with lower numbers representing lighter lines and higher numbers representing heavier lines.
Different Types Of Tapers And Their Effects On Casting
The taper of a fly fishing line refers to its thickness and weight distribution along its length.
Weight-forward (wf) taper is the most popular and versatile taper, with the majority of the line's weight located in the first 30 feet. This taper provides good casting distance and accuracy, making it suitable for most fishing situations.
Double taper (dt) taper lines have an even weight distribution throughout their length, making them ideal for delicate presentations and roll casting. They can be reversed when one end wears out.
The level taper line is uniform in thickness and weight along its entire length, resulting in easy control and minimal taper memory.
The shooting taper line has a thin running line attached to a heavier shooting head, allowing for long-distance casts. It is commonly used for saltwater and salmon fishing.
Considerations When Choosing A Fly Fishing Line
Fishing conditions: Consider the type of water you'll be fishing in – freshwater or saltwater – as well as the weather conditions.
Target species: Different fish species have specific preferences for line weight and taper. Consider the fish you're targeting to ensure you choose the right line.
Casting distance and accuracy: If casting distance is important to you, consider a weight-forward taper line. For precise casts, a double taper line may be a better choice.
Water clarity: Clear water calls for a more subtle presentation, so a thin diameter line may be preferred. In murky water, a thicker line can provide better visibility.
Budget: The cost of fly fishing lines can vary greatly, so consider your budget before making a purchase.
Personal preference: Some anglers have personal preferences for specific brands or materials, so take that into account as well.
Consider line weight, taper, fishing conditions, target species, casting distance and accuracy, water clarity, budget, and personal preference when choosing a fly fishing line.
Setting Up Your Fly Fishing Line For Optimal Casting
Assembling your fly fishing rod and reel:
First, ensure that your rod and reel are compatible and properly assembled.
Attach the reel to the rod by sliding the reel foot into the reel seat.
Tighten the reel seat securely to prevent it from coming loose during casting.
Attaching the backing to the reel:
Start by tying a strong knot around the reel spool using the backing line.
Wrap the backing around the spool several times, making sure it remains level and tangle-free.
Tie a secure knot to keep the backing in place, ensuring it won't slip or unravel.
Attaching the fly line to the backing:
Begin by placing the backing and fly line together, ensuring they are aligned.
Use a double surgeon's knot to connect the backing to the fly line.
Slide the backing and fly line loops through each other, and make three or four tight wraps.
Pull the knots firmly to secure the connection, and trim any excess line.
Connecting the leader to the fly line:
Take the tapered end of the fly line and tie a nail knot to attach the leader.
Wet the line before tightening the knot, ensuring it won't weaken from friction heat.
Trim any tag end of the knot to avoid interference during casting.
Pull gently on the leader to ensure that the connection holds securely.
These steps will optimize fly fishing line casting. To enjoy fishing, examine and maintain your gear.
Mastering The Art Of Casting With A Fly Fishing Line
Whether you are an experienced fly angler or just starting out, mastering the art of casting is essential for a successful fly fishing experience.
Casting with a fly fishing line requires a combination of proper grip and stance, understanding the casting stroke, and the ability to execute different casting techniques such as drift, reach, and roll casts.
In this section, we will explore these aspects of casting and provide tips to improve your casting accuracy and distance.
Grip And Stance For Efficient Casting:
A proper grip on the fly rod is crucial for efficient casting. Hold the rod with a relaxed grip, using your index finger on top of the handle as a reference point.
Stand shoulder-width apart and face the direction you wish to cast to maintain a balanced stance.
Keep your body relaxed and avoid stiff movements that can affect your casting accuracy.
Understanding The Casting Stroke:
The casting stroke is the movement used to deliver the fly line to the desired location. It consists of a backcast, forward cast, and pause in between.
Start the casting stroke with a smooth backcast by slowly moving the rod tip backward, loading the rod with energy.
Transition into the forward cast by smoothly accelerating the rod tip forward, releasing the energy stored during the backcast.
Pause at the end of each stroke to allow the line to fully extend before repeating the casting motion.
Drift, Reach, And Roll Casts:
The drift cast is useful for presenting a fly naturally on moving water. It involves extending the forward cast slightly and allowing the line to drift downstream before retrieving it.
The reach cast is a technique used to adjust the fly's presentation by reaching the rod tip upstream or downstream during the forward cast.
The roll cast is effective in tight quarters, such as when there are obstructions behind you. It involves rolling the line on the water's surface and using the rod tip to lift and cast the line.
Tips For Improving Your Casting Accuracy And Distance:
Practice regularly to develop muscle memory and refine your casting technique.
Focus on timing and smooth acceleration to achieve longer and more accurate casts.
Experiment with different line weights and rod actions to find the combination that works best for you.
Observe wind direction and adjust your casting angle accordingly to minimize the impact of wind on your casts.
Cast farther and more accurately using your wrist and forearm.
Keep your movements fluid and avoid any jerking motions that can negatively affect your casting performance.
Mastering the art of casting with a fly fishing line takes patience, practice, and a deep understanding of the mechanics involved. By honing your grip and stance, familiarizing yourself with the casting stroke, and mastering different casting techniques, you can significantly improve your casting accuracy and distance.
Maintaining And Storing Your Fly Fishing Line
Proper cleaning and maintenance techniques:
Regularly clean your fly fishing line with warm water and a mild soap or specialized line cleaner. Avoid damaging the line with harsh chemicals or abrasives. Cleaning the line helps ensure optimal performance and prolongs its lifespan.
Softly clean the line with a sponge or towel, debris, or residue. Pay extra attention to areas where the line passes through guides, as these can accumulate dirt and grime.
Inspect the line for any signs of damage, such as nicks, fraying, or cracks. If you notice any issues, it's important to replace the line to prevent it from breaking during a fishing trip.
Apply a thin layer of line dressing or conditioner after cleaning to keep the line smooth and supple. This helps improve casting distance and reduces friction when reeling in fish.
Avoid overstretching the line, as this can weaken its integrity. If the line becomes tangled or twisted, untangle it gently without putting too much strain on it.
Storage options to prolong the lifespan of your line:
When not in use, store your fly fishing line properly to maintain its quality. Here are some storage options to consider:
Remove the line from the reel and keep it in a cool, dry, shaded spot. Sunlight deteriorates the line.
Use a line spool or a line winder to neatly wrap the line to avoid tangling and twisting. This helps prevent damage to the line during storage.
If you plan to store the line for an extended period, consider using a line conditioner or preservative to prevent it from drying out and cracking.
Avoid storing the line in extreme temperatures or areas prone to moisture, as these can degrade its quality.
Replace damaged stored lines.
Recommended Fly Fishing Line Accessories
Fly fishing is a thrilling sport that demands the correct gear. While selecting a suitable fly fishing line is crucial, it is equally important to consider the various accessories that can enhance your overall fishing experience.
Backing Options For Added Strength And Capacity:
Dacron backing: Durable, strong, and abrasion-resistant, this backing material is popular. The high tensile strength of dacron backing ensures that you have the extra support needed to handle larger fish.
Gel-spun polyethylene (gsp) backing: If you're after big game or fishing in saltwater, gsp backing offers the ultimate strength-to-diameter ratio. Despite its thin diameter, gsp backing provides impressive line capacity and incredible knot strength.
Wire backing: When targeting toothy predators like pike or musky, wire backing is a reliable choice. Its stainless steel construction prevents fish from biting through the backing, ensuring your fly line remains intact.
Capacity considerations: Depending on your fishing style and target species, it is crucial to select an appropriate amount of backing. Generally, 100-200 yards of backing is sufficient for freshwater fishing, while saltwater anglers often opt for 200-300 yards to handle the long runs of powerful fish.
Leaders And Tippets For Different Fishing Conditions:
Nylon leaders: Nylon leaders offer versatility and are the go-to choice for many fly anglers. They are easily accessible, cost-effective, and available in various lengths and sizes. Nylon leaders provide adequate control for most fishing situations, making them suitable for beginners and experienced anglers alike.
Fluorocarbon leaders: Fluorocarbon leaders have gained popularity in recent years due to their exceptional stealth and abrasion resistance. These leaders are less visible underwater, allowing for a more natural presentation of your fly. Fluorocarbon leaders excel in clear water conditions or when targeting wary fish.
Furled leaders: If you prefer a more delicate presentation and a smoother turnover, furled leaders are worth considering. Made from braided strands of thread, furled leaders are highly supple, improving the overall casting performance and delicacy of your fly presentation.
Tippet materials: Tippets are the thinner sections of the leader that connect the fly to the leader. Common tippet materials include nylon and fluorocarbon. Nylon tippets are suitable for general fly fishing and provide good knot strength, while fluorocarbon tippets offer superior abrasion resistance and low visibility.
Remember, when choosing leaders and tippets, consider the fly size, target species, and fishing conditions to ensure the best possible presentation and successful hookups.
Fly Fishing Line: Dos And Don'Ts
Before you head out to the water for your next fly fishing adventure, it's crucial to set up your fishing line correctly. Properly setting up your fly fishing line can make a significant difference in your casting accuracy and overall fishing experience.
In this section, we will take a closer look at the dos and don'ts when it comes to fly fishing line setup.
Common Mistakes To Avoid When Setting Up Your Line:
Using the wrong weight line: Ensure that you choose the appropriate weight line for your fishing rod and the type of fish you are targeting. Using a line that is too light or too heavy can negatively impact your casting distance and accuracy.
Overlooking the backing line: Many anglers tend to overlook the importance of the backing line, which is a thin line attached to the fly line. Neglecting to properly attach a backing line can result in losing your catch when a fish takes a long run.
Not cleaning your line regularly: Your fly fishing line can accumulate dirt, debris, and grime over time, which can affect its performance. Cleaning your line regularly using a mild soap and water solution can help maintain its optimal performance and prolong its lifespan.
Best Practices For Casting With A Fly Fishing Line:
Practice proper casting techniques: Take the time to learn and practice proper casting techniques. Smooth and controlled casting motions will allow you to cast your line accurately and with minimal effort.
Use the correct casting stroke: When casting, use a combination of smooth acceleration on the backcast and crisp stops on the forward cast. This will help generate enough line speed and ensure proper line turnover.
Pay attention to line management: Proper line management is essential for successful fly fishing. Make sure to manage your line by stripping it in smoothly and efficiently to avoid tangles and snags.
Consider wind direction: Take into account the direction and speed of the wind when casting. Casting against the wind can make it more challenging to achieve the desired distance and accuracy. Adjust your casting technique accordingly, such as using a sidearm cast or applying more power to overcome the wind resistance.
Use the right amount of false casting: Limit unnecessary false casting to minimize line disturbance and increase your chances of fooling the fish. Too much false casting can spook the fish and decrease your success rate.
Final Word
Setting up a fly fishing line may seem daunting at first, but with practice and the right guidance, you can become a pro in no time. By selecting the appropriate line weight, backing, and leader, you can ensure a successful and enjoyable fishing experience.
.
Amazon and the Amazon logo are trademarks of Amazon.com, Inc, or its affiliates.